Wedding at the hotel Poľana – Under the Zvolen Castle, everything you wish for
STANDARD WEDDING OFFER
– menu 35 eur / person (aperitif, soup, appetizer, main dish, hot and cold buffet)
– Rent air-conditioned room until 04:00 in the morning
– basic decoration free of charge + extra charge for white chair jacket 0,50 eur / pc
– a newly married apartment
– can bring your own alcoholic and non-alcoholic beverages without fee, also cakes, salty and fruit
– accommodation for wedding guests during the wedding night 20 euros / person / without breakfast, children up to 6 years old and cot for free
– garden atrium along with basic decoration gratis
– free consultations
– providing a wedding ceremony in the church and the office, and assistance in handling documents free of charge
– free hotel parking with a capacity of up to 50 cars
For more information about the wedding offer or the free dates please contact us at +421 908925929 or at polana@hotelpolana.sk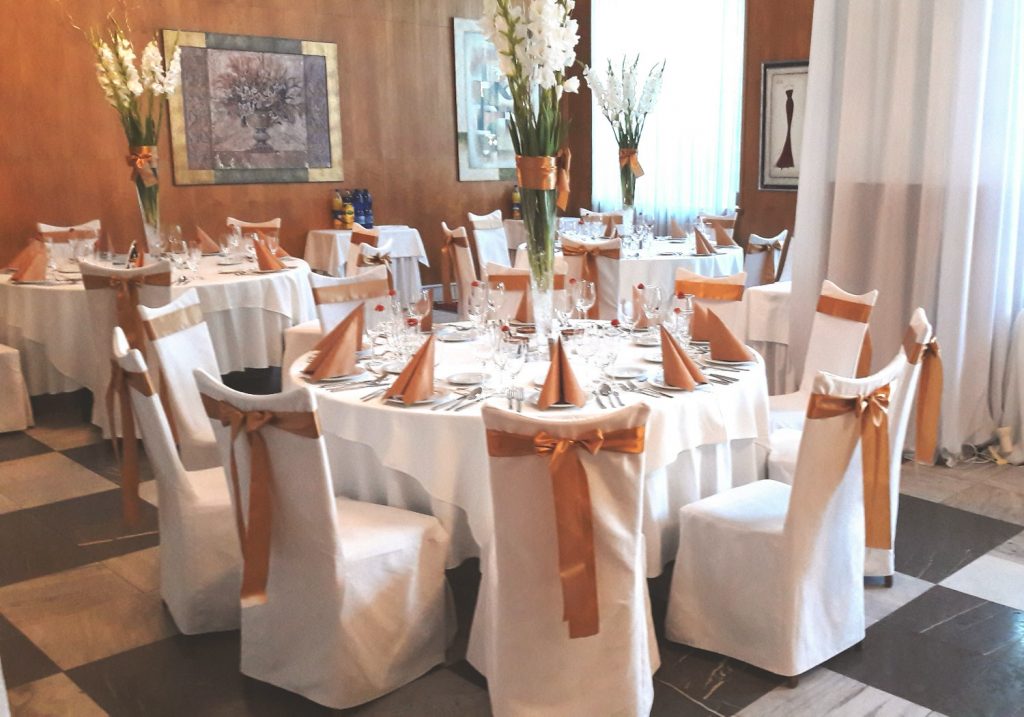 WORRYLESS WEDDING
If you don't want to have any sorrows with your wedding, we and our verified wedding organisations can tak care of all you will need for your big day. With our experience we can take care of all these necessities for you:
– ensuring a wedding ceremony in a church or Register office, and assisting with documents
– consultancy, consulations, wedding coordinator services free of charge
– a newly married apartment with a view of the Zvolen castle for you
– convenient accommodation for your guests
– wedding hall for 10 to 200 wedding guests
– ensure complete decoration of the hall, church, wedding car, ceremonial hall
– arranging wedding bouquets and other flowers, piercings, wedding cups
– wedding menu, cake, wedding cakes and desserts
– wedding limousine
– wedding dresses, suits, hairdressers, cosmetics and make-up artists
– balloon decorations
– announcements, labels, wedding menus
– securing DJ or band, photographer and cameraman
– a thematic wedding or a program for your wedding guests
– babysitting
– cocktails, candy bar, or fruit-chocolate table
– other requirements in addition to your needs and suggestions
We will provide all of this thanks to our rich experience, excellent service and personal access.If you wish to make a wedding offer for WORRYLESS WEDDING, please contact us at our e-mail address or phone number: polana@hotelpolana.sk; +421 908 925 929. Before we make a wedding offer for WORRYLESS WEDDING, at least one meeting is always needed to know what we can do for you.
You can also find us on Facebook, do not hesitate to become our fan, so you can get more current informations and photos:
Facebook: https://www.facebook.com/pages/Hotel-Polana/197572270276867